Mid Century Gravy Boat for 1p?
I found this little treasure at a car boot sale mixed in with a bunch of random stuff. I adore the classic shape of this gravy boat and the colours seemed very mid century to me.

Stamped on the bottom is this image (found at
thepotteries.org
), which indicates it was made between 1954 and 1960 for J & G Meakin's Studio Ware Line.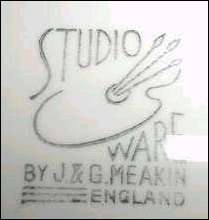 Unfortunately the poor little thing has been damaged at some point in its life. The handle has been reattached (seemingly with glue) and a chip remains at one of the seams. So for this reason, I have put it up on ebay for the bargain starting bid price of
1p
!
I have only recently become an ebay buyer and this will be my first foray into the world of ebay selling. I have other vintage items in
my etsy shop
but as this piece is damaged, I had no idea what price it should be so thought it best to set it loose upon ebay. Good luck my little gravy boat - I hope you go to a wonderful new home.
You can bid on this thing of beauty -
here
.
In other vintage selling news, the vintage alfoldi plate I blogged about
here
, sold on etsy last week. I was sad to see it go - but glad it will go to somebody who loves it.